The new website for our 3rd game is up! Please check out http://www.AQuiverOfCrows.com to learn more about A Quiver of Crows.
And while you're here – check out our latest gameplay screenshot.

Dry winds blowing through the desert sky. Windmills spinning in the background. A blurry bulldozer in the foreground demonstrating the multiple parallax layers. Deep colors evoking a sense of baking in the desert heat.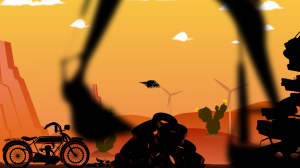 That's it for now. Don't forget to check back with us soon for more development info and screenshots!