Hey Peoples!
We just got back from MomoCon where we were showing our corvid-based twin-stick shmup: A Quiver of Crows.
MomoCon
A couple of months ago A Quiver of Crows was selected as a MomoCon 2016 Indie Award Showcase Finalist! So last week we found ourselves in the lovely city of Atlanta, Georgia where we got to show the game all 4 days of the convention.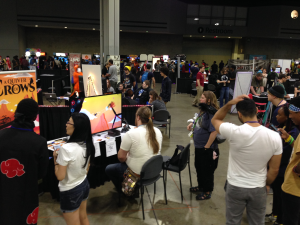 Gamers competing to complete a difficult stage.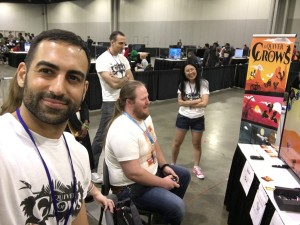 The 3 of us excitedly watching the action!
MomoCon was a great experience for us. We met tons of awesome people who were not afraid to show their love for gaming, anime, cosplay, and all things art. Our booth constantly had somebody playing the game from the time we set up on Thursday until the last moment of the event on Sunday. We even had people competing to beat the most difficult stages as well as speed running others. The 3 of us were kept really busy at the booth, but from time to time we were able to slip away to check out a few of the other indie games that were at the show. Of the games we got to try our favorite was Fossil Echo – if you're looking for a fun platformer with beautiful artwork, you should really check out this game:

We also really enjoyed Shu, Dragon Fin Soup, and Ellipsis, just to name a few. You can check out the full list of MomoCon Indie Award Showcase finalists and winners here.
Stay Tuned!
Hopefully we'll have another progress update for you in a few weeks. If you're part of the press and would like to preview the game, please request your key via Keymailer.co or contact us at crows@sheado.net. Got questions? Please feel free to contact us at crows@sheado.net or start a discussion in our Steam community hub. And don't forget to wishlist the game on Steam and follow us on Twitter @AQuiverOfCrows for more frequent updates!