Hi Peoples!
We're getting close to completing development on our twin-stick shmup A Quiver of Crows! Here's a status update:
Music
Alice has been working hard writing more music (while also polishing up some level designs). Here's the latest track she's created. Listen to it! It's awesome!

Bugs & Beta
The game is now entering its final beta. The team has been chipping away at testing while also fixing bugs and design issues as they arise. We're not doing a let's play video this month so that we can focus on these final tasks.
Animation vlog
Danny's been uploading some short animation behind the scenes videos. In each video Danny shows an animated asset and explains which Spine (animation tool) features he used for creating some of the effects. We added a bunch of these videos to our Game Development playlist on YouTube – check them out if you're interested in animation:

T-Shirt
We designed a t-shirt! Actually, we wore these during MomoCon while we were exhibiting the game a few months ago. Buy one and represent your corvid spirit!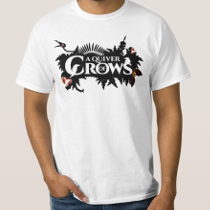 Press Previews
If you're part of the press and would like to preview the game, please email us at crows@sheado.net.
Stay Tuned!
That's it for this progress update. If you have any questions, please feel free to contact us at crows@sheado.net or start a discussion in our Steam community hub. And don't forget to wishlist the game on Steam and follow us on Twitter @AQuiverOfCrows for more frequent updates!